Cbox
Everyone chatting it up over here!

Isobel shouldn't have made the next rank. She caught one dark wizard and discovered more information into the Fee than anticipated. She won a fancy award. So what? It was basically nothing. Well, not nothing, but she was done being pat on the back for it. The extra pay was nice, though she wished it wasn't necessarily accompanied by extra work.

However, this assignment was the easiest one she'd had so far. After two years of being stationed at the prison, then one year of active tracking, she was in second in command in a small team of young aurors, which was basically nothing in comparison.

They were technically field aurors, but they didn't have a specific target. If anything, they were more like security guards. They usually posted at the hospital or were out around town in high traffic areas, just keeping good order. That was their assignment, actually. To maintain good order in Paris. Simple.

Isobel and her superior switched between field work and office work weekly. And this week was hers to stay in the office. She mostly did paperwork, answered questions as problems arose, and attended the occasional meeting. In all honesty, she was mostly sitting around today. In fact, she was finishing up a letter to her niece, a bit distractedly, dragging the feather end of the quill along her face as she thought of the right words to say. She wasn't quite sure what to even tell her niece. Ryder was a little bit easier to write to because he wanted to know everything, but Wynter was a bit of a mystery to Isobel.

She looked up as there was a knock on her open office door. "Enter," she said, not looking up. It was probably another auror, with a quick question. She didn't need the whole huge greeting if it was from an auror of lower rank.  There were protocols and all and she didn't want to have to follow the proper greeting ones right now. "How may I help you? Also, odd question, and if you don't know, that's perfectly okay, but what part of my job would be interesting to my twelve-year-old niece?" she asked. She didn't know who she was even talking to, so it was a stab in the dark. She was hoping that she would get lucky for once.
_________________
~Auror~Seer~Aidan's Girlfriend~Wynter and Ryder's Aunt~
credit to accursed@tda
The Ministry had called Harley back in to testify on one of her jobs that she had found the item in question and returned it to the Ministry upon collection. It seemed the magical item had gone missing, and Harley was the first to be questioned about it. Despite quitting her job as an Unspeakable, it still seemed as if she lived the life of one. Secrecy, loneliness, constant drama.

As Harley waited for the elevator to reach the lobby (the Department of Mysteries was ever so far underground), she noticed on the list of names and departments that a quite familiar one rested next to the Department of Magical Law Enforcement. Isobel Green, how ironic. The only contact she'd had with the Green family was that one awkward incident with Ryan and the letters with her daughter. Perhaps she would stop by for a visit. If she could make nice with extended family. perhaps she could get on the immediate family's good side and get to know more about how they were doing.

It was pointless to lie, Harley had ignored Isobel's attempts to reach out to her while she was working. Isobel was an Auror, so she had no excuse for saying that she hadn't been able to contact her due to work since their jobs were in the same building. It was simply the fact that Harley had gone through a period of cutting all ties as quickly as possible, and Isobel was no exception. Due to this, Harley began to doubt her decision as she approached the Auror's door. She swallowed her pride and knocked twice before heeding the command and entering. "I guess I just want to drop by and say hello. Also, assuming the twelve-year-old niece you're speaking of is my twelve-year-old daughter, I don't believe I am the best person qualified to answer that question. Hello, Isobel," Harley said. Perhaps this wouldn't go as sour as her meeting with Ryan did.
_________________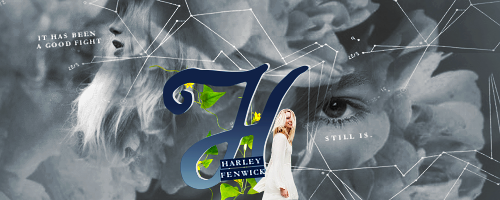 Muggle-Born Blondie • Owner of Nyx • Owner of La Fleur de Fenwick
Shopkeeper





Posts

: 220


Join date

: 2014-02-14


Age

: 24


Location

: Westminster, England



Isobel's head snapped up at the voice that had replied. It took a lot for the auror to lose composure nowadays, so her reaction even surprised her.

It wasn't a secret that Harley was a bit of a taboo topic. Like Ryan was some sort of celebrity and Harley was the scandal. Isobel tried her hardest to stay out of Ryan's problems and out of her mother's gossip. She had bigger things to worry about, like making sure her boyfriend was doing his homework and... well, that was about it.

It wasn't that Isobel disliked Harley. She disliked the drama and she just found the mother's actions to be despicable. How a mother could leave her child baffled her. Isobel was lucky enough to have experienced the love of two mothers, birth and adoptive, and the way they treated her and looked at her and admired her made her wonder. Sure, they didn't have jobs that required them to travel all the time, but even then. Why would a job ever be more important than one's family? Especially in the fundamental days?

Which she supposed was where Ryan was coming from, as well. Why else would Ryan not want Wynter to see her? Why was Wynter important to Harley now? When would she leave next and for how long?

Even though Isobel could easily get information on where Harley was, Ryan had refused it. Whether he didn't want to know or it made it easier to lie to Wynter if he didn't know, was beyond her realm of understanding. All she knew was that Ryan had his ways and she trusted him.

Isobel's face slipped into a bored expression as Harley spoke. "I suppose not," she agreed with a short nod. "Hello to you, too. How are you?" she asked, more to be polite than she was interested in the answer.

Isobel didn't know what business Harley could possibly have here. They had all heard about the resignation and many were sad to see her go. Why would she come back? Apollo mentioned her having a flower shop in Cheval, but the auror hadn't seen it and had no intention of ever going.

She was honestly getting uncomfortable thinking about all of this. Wynter was her niece. Ryan was her brother. She was just there. Isobel wasn't even the closest link to Ryan. His wife's office was literally down the hall. Why was Harley coming to her? What could possibly be her motivation? She vowed to herself right then and there that no favors would be done. Not against her brother's wishes.
_________________
~Auror~Seer~Aidan's Girlfriend~Wynter and Ryder's Aunt~
credit to accursed@tda
Although Harley had expected the shock on Isobel's face, it still disappointed her a bit. Perhaps it was because she had hoped Isobel wouldn't shun her as much as the rest of the Green family did, but she should have known that her mistake had cost her more than she had wanted. It hurt a bit since she had once been Ryan's closest friend, but the pain was all on her part. There was nothing she could blame the family for.

"If she's anything like me, though, the adventure and idea of being a witch people look up to is enough to get her interested," Harley offered. It was what had intrigued her about the Ministry in the first place. The mystery and secrecy about being an Unspeakable was what had truly caught her attention though. The thought of Unspeakables being the witches and wizards who everyone knew of but no one knew about was irresistible to her young mind. Unfortunately, that had consequences too.

"I've been doing well since I quit. They called me back in to testify on a missing item that I had captured a year or two back when I wasn't an Unspeakable yet. I suppose word on it hadn't reached the upper floors, though, with it being a matter of the Department of Mysteries. How has life been for you? I heard that you were put in charge of training the new recruits. How's that going?" It was difficult for Harley to find things to talk about without mentioning the taboo subject of the Green family.

Harley sighed and ran her hand through her hair in exasperation. "Listen, Isobel. I'm really sorry for everything. I know there's nothing I can say to excuse what I did, and I know it put problems on your family. My choices seemed reasonable to me at the time, though, and I regret them to this day. You just have to understand that I knew I couldn't offer her the life that she would have wanted or deserved. Ryan and Serah are doing a much better job than I ever could have, especially since Ryan and I separated. I just," she paused. There would never be any justification for what she did. "I just wanted better for her, and I wasn't that."
_________________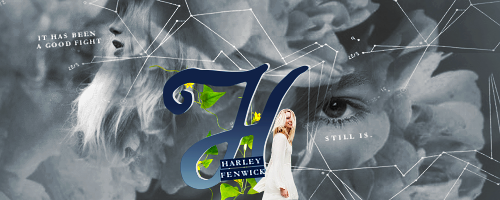 Muggle-Born Blondie • Owner of Nyx • Owner of La Fleur de Fenwick
Shopkeeper





Posts

: 220


Join date

: 2014-02-14


Age

: 24


Location

: Westminster, England



Isobel just nodded at the suggestion. She hardly knew Harley. How was she supposed to know if Wynter was like her? The only thing she really knew about Harley was that she liked attention. And Wynter didn't really care for it and actively rejected it. Not that her nephew wasn't willing to pick it up. Ryder was so dramatic.

Isobel shrugged. She didn't know much about the Department of Mysteries, for obvious reasons. Sometimes, aurors were sent there as extra protection or they'd need to investigate a crime. But they were specially trained. It used to be that any auror could, but after stolen items had been found in the possession of a younger auror, the Ministry had become quite picky on who could be inside. There was surely an application process and a screening or something now. Things Isobel wasn't particularly interested in doing.

"Not really training. And they're hardly recruits. Any field auror can be assigned here. It just so happens that these ones are just out of initial training," she answered. "They're rowdy, but that's really my only complaint."

They were quite literally loud twenty-year-olds. And even though she was barely twenty two, Isobel was slowly becoming a grouchy old lady. Aidan had pointed it out one day while they were complaining and she didn't even try to deny it.

And then the reason she was actually here flowed out. At least this meeting was fairly short. She rolled her eyes. "First of all, it hardly affects me. So I don't know why you're apologizing to me," she started. She was tempted to give Harley directions to Serah's office.

She knew she was digging and this probably was going to hurt, but someone needed to say it and it was going to be Isobel because no one else would. "She was a baby. How could you possibly have known what she would have wanted? You didn't even give her the option. It was live without you or live without you."

"And did you even think about Ryan? Here he was, a twenty something-year-old, just finding out he had a daughter and surprise! 'You get to keep her because I want to go explore the world and track down dangerous items. And I don't know how long it will take and it might kill me in the process so see ya later!'" she mocked.

"He was terrified, Harley," Isobel told her, a little fire in her voice now, but not enough to really be yelling. "He worked so many hours trying to provide for her. Just Ryan and Wynter against the world. That's all he had. We were all praying for a miracle for him. Thank goodness Serah came back to France. Praise be to Serah for stepping up and being his best friend and his support system and providing for them," she added.

"You think he wouldn't have worked something out just because he didn't want to be with you anymore? Do you really even know him?" Isobel asked rhetorically. There was no going back. She was going to talk until all her feelings were out, and that would be terribly unfortunate for Harley. "He's not a completely unreasonable person. But you know what? With all the absolute bullshit coming out of your mouth right now, I don't blame you for not talking it out with him like an adult. You know he would be saying all the same things I would."

"It's not my place to accept an apology on behalf of my brother and sister-in-law and family.  I understand where you're coming from and I realize that you were scared, too, but that's not an excuse," she explained. "It's just not."
_________________
~Auror~Seer~Aidan's Girlfriend~Wynter and Ryder's Aunt~
credit to accursed@tda


Similar topics
---
Permissions in this forum:
You
cannot
reply to topics in this forum