Cbox
Everyone chatting it up over here!

Wynter had found out a lot of information while doing research on her mother. She knew she should have been studying or doing homework, but she was on a mission. She still got her work done but it was almost always rushed, she was an average student because of this. She promised herself that she'd do better once she was sure who her mother was. It didn't take her long to piece things together though, she knew who her mother was now and she wasn't going to tell her father. It was that woman that she had met before starting school. Did she know it was her? That it was her daughter? Or did she just not say anything? She had to have known, right? She was a spitting image of her after all. But why didn't she say anything? She wasn't sure what to do with the information she had learned.
She had heard around from a couple of older students that there was a new shop in Cheval and the name of it was all too familiar. So, she decided it was a good idea to write a letter to her mother and ask her all the questions she had been wondering. One of the school's owls would deliver it to the shop in order for her mother to receive it.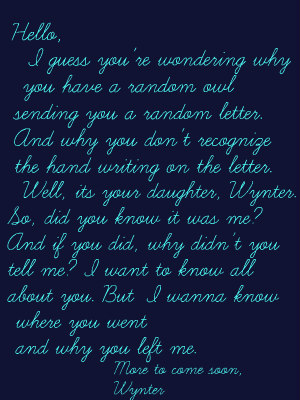 It had taken a few drafts but she was finally happy with her writing and sent the letter on its way.
Harley's shop in  the village had been getting much more business than she ever thought it would. Apparently there was an increasing demand for freshly grown vegetables, and more students required roses to ask their beloved ones on a date, so she was busy all the time it seemed. Despite all the hustle and bustle, Harley was happy with her newfound career, and she was always ready to give a free flower or two to her favourite customers.

She had finally decided to go through the stack of mail that had been sent to the shop, most of them were orders for bushels of fruit or large amounts of bouquets for weddings, but there was one that stood out. It had the familiar powder blue envelope she had received once and the Beauxbatons crest imprinted on the front. She flipped the letter around, shocked to see who it was from.

Perhaps Harley's past had finally caught up with her, and now she needed to face the consequences. With many emotions in her heart, fear and happiness being the two most prominent ones, Harley composed a letter to send back to her daughter.

Dear Wynter, I'm not surprised you found out the truth so soon, you have your father's knack for finding everything and my intelligence. Despite this, I apologize for not telling you the truth, but if you were to figure out, I wanted it to be on your own terms.
I'm proud of you for getting into Beauxbatons, but it was destined to be anyways. What question did they ask you for the Sorting? And what house were you put in?
Also, to answer your question, I went many places because it was my job to. I would like to say I left you because the traveling and lifestyle was not fit for a baby, but the truth for once is that I was scared. I knew your father would provide a better life for you than I could, and I will forever regret that decision.
Sincerely, Harley
_________________
Muggle-Born Blondie • Owner of Nyx • Owner of La Fleur de Fenwick
Shopkeeper





Posts

: 220


Join date

: 2014-02-14


Age

: 24


Location

: Westminster, England



Wynter didn't really expect anything back from her mother since she hadn't been in her life until then and didn't make any effort to be there for her daughter. She was wary to trust the woman because she could just leave again or not reply to her letter. She had to tell herself not to get too invest in this and not to get her hopes up because there was a huge chance that she could get hurt in the end. She didn't want to get hurt, she didn't want that at all. Wynter didn't want to get attached to a woman that hadn't been there for her.

But she couldn't help imagining what things could have been like if her mother would have stayed and her parents would have stayed together. Sure, Serah was nice to have around but she wasn't her mother. She was there for Wynter but she would never accept Serah has her mother. She wasn't close to her nor would she ever be. She couldn't help but imagine sharing secrets with Harley, creating their own language, and her brushing Wynter's hair when her daughter was upset.

The mail had arrived and it was the usual letter from home along with a letter from the mother she had hoped would write back. A small smile formed on the girl's lips and she quickly ripped open the letter.

Later that day, she began to write her mother back.


Dear Mother Harley,

To be very honest, I didn't expect a letter back from you. I thought I wouldn't get a reply and that you would keep your distance like you always have. Daddy doesn't know that I've talked to you and I'm not going to mention it to him. He doesn't really talk about you, so I don't know much about you. I've asked, he just changes the subject. I don't blame him, it's a difficult subject to talk about. I've learned to stop asking him.

I was sorted into Lumière, it is a very nice house and I've made many friends within my house. I was asked if I rather travel through time or be immortal. I chose to travel in time for various reasons, mostly because I wanted to meet you. I always wondered what it would be like if you would have stayed and what it would be like if you and Daddy stayed together. What do mothers and daughters do together? Serah tries but she's not my mom but she's not very good at it.

Was it easy to leave me? I was just a baby, was it easy to look at me and leave? I didn't think I would want to know you this badly but now that I've met you, I want to know everything. Did you ever imagine what things could have been like? We could have made cookies together and brushed each other's hair. Share secrets...

I gotta go now. More to come soon.
Wynter
Truth be told, the letter Harley had composed had been bothering her more than it should have. Perhaps Wynter had decided she wanted nothing to do with her? Or perhaps Wynter hadn't taken her response very well and was not angry with her. Either way, Harley was eager for a returning letter, if there was one at all.

The day the letter arrived, the excitement was short lived and soon was replaced with worry. This was her daughter who she was supposed to love and support unconditionally, and she had left, just as her parents had. Was there any way to undo this damage now? Despite these fears, Harley carefully opened the letter and read the contents two, maybe three times. Photographic memory and all, this letter meant more to her than anything. She sat back and pondered over a response for a few minutes before deciding how to best answer.

My dearest Wynter,

I apologize for the late response on my first letter, but the store has been incredibly busy. Perhaps you could stop by some time? I've just made a recipe for an apple cider that is purely to die for.

Don't blame your father for that. He's always been a stubborn one, yet I understand not wanting to talk about me. I suppose I did leave a bit of a bad taste in his mouth. We met in the animal shop when he and another student accidentally released an owl, and I interjected saying that he was an idiot. This affair ended up in us being enemies for the first few weeks before he took me up to the tower to stargaze, but I'm sure he only took me to take the fall if we got caught. If anyone were to ask me but you, I would say I'm over him, but you are my daughter and I want to believe I can trust you, so I will tell you this secret. I still love him. I think I always will, but this cannot be helped and we must move on.

Is that one of the new houses? When I was a student I was sorted into Montagnard, but I've heard the houses have changed since I was there. What type of friends have you made? I would like to know all about you if that bodes well with you. Also, how ironic that the Sorting Goblet asked you the same question as I received for my ceremony. Not to mention that we gave the same response, but different reasons. I guess that if I would have to answer that question again today, I would respond that I would quite like to make a different decision when it came to giving you away.

To answer your question, I am not sure what mothers and daughters do together. I did not have one very long growing up, nor did I have a daughter very long either. I suppose people parent as they were parented though, but that is no excuse. At least try to appreciate Serah. She's trying her best to take care of you.

Leaving you was the hardest decision I've ever made, and quite possibly the worst. I believe, though, it was because you were just a baby that it was easier for me to because I had not gotten to know you. I had not experienced seeing you grow up or marking your height on the doorframe or braiding your hair. I imagine quite often what it would have been like to have had a daughter. I would have taught you to ride horses and play quidditch, perhaps even had you help me around the garden occasionally. Despite this, I made a decision, and I regret it. I would like to try and make amends for what has been done, though, if you will let me.

Farewell, Harley.

_________________
Muggle-Born Blondie • Owner of Nyx • Owner of La Fleur de Fenwick
Shopkeeper





Posts

: 220


Join date

: 2014-02-14


Age

: 24


Location

: Westminster, England



Wynter's studies were going well and she had Rajan to thank for that, he helped keep her focused. And she did quite a bit of studying with Ryder when he actually wanted to study. But she spent most of her time studying with the older boy instead of her cousin, he had a better way with words to keep her focused on her work. She often found herself staring at him and quickly looking away once she saw him. He was older and in a different house, but she still had a massive crush on him. And he was the only one she had told about her mother and the secret admirer letter she had received. He didn't have much to say on either subject but that was okay with Wynter because she liked to do most of the talking.

She had recently gotten a letter back from her mother but wasn't sure how to reply and tried to ask him for help. She hadn't got much luck from him and decided to just write it and see what came to mind.


Dear Harley,

I've been studying a lot and I've been getting decent graded, my letter is a bit delayed. I've been so busy and my friend, Rajan, has been helping me study. He has a way of speaking that makes me focus on him. He keeps me focused. He's a fourth year and so smart and cute. I don't think we know each other well enough for me to discuss the subject of boys so I rather not have any comments made about him being a boy and me spending time with a boy.

You still love Daddy? Maybe you two could get back together! I don't like Serah and I don't think their marriage is doing to well. We could be a family and it'll just be the three of us, it's a lovely idea.

Yes, it's one of the new house. I'm not sure how to describe my friends, I think they're all pretty different. Rajan is very....he's hard to describe. His family is rich and sometimes he let's that go to his head. He's very nice to me though. I didn't know that I was given the same question as you...I'm sure they did that on purpose. I didn't think it was all that important to talk about and didn't really mention it to Dad. He's asked and sends me letters all the time. I reply to his but not Serah's.

Maybe we could learn what mothers and daughters do? I mean, I don't think it's too late to start trying. Daddy doesn't know that I know you and that I've met you so he might have a heart attack if I told him I wanted to visit. I think I should wait until I'm a third year to visit your shop before I try to visit you anywhere else.

I think we could try to start a relationship with baby steps...I would like that a lot.

Love, Wynter


Similar topics
---
Permissions in this forum:
You
cannot
reply to topics in this forum