Cbox
Everyone chatting it up over here!

The end of the year was approaching, and Kayla had to choose her third year electives. She was allowed time to briefly observe some classes to aid her in her decision. She stood at the door of the Divination classroom. She had heard rumors about the class. Most people either loved studying the future, considered it a blow off class, or hated it. So far it looked alright. Students were looking into crystal balls where they were supposed to see unique shapes. Perhaps it would be fun to have a class about the future. Kayla suspected it would take a while to get used to the open ended nature of Divination, though.

Kayla turned around when she saw someone in the hallway. "Oh! Harley!" She grinned. She had just seen the older witch recently in her presentation. "Did you take Divination?" she inquired. She knew many people working in the Department of Mysteries did. "I'd like a second opinion on what electives to take."
Shopkeeper





Posts

: 169


Join date

: 2014-10-18



Ever since Harley had been visiting form the Ministry, teachers had been ever so curious about her life there. She had just escaped from answering Professor Cox's relentless questions and was trying to run away to the library when she was stopped again. Cringing, she turned around to face the person who had called her name, only to be met with Kayla's smile. She was standing outside the door of the Divination classroom, and looking rather concerned about something.

"Oh, hello! How was my speech? What it interesting enough?" Harley was actually kinda concerned that maybe she had just turned away people looking to be in the Ministry. "Um, I did actually. It's a recommended course for prospective Department of Mystery members. We have this thing called the Hall of Prophecies. It's really cool. If your looking to join, I would totally recommend it. Why? What else were you considering?"
_________________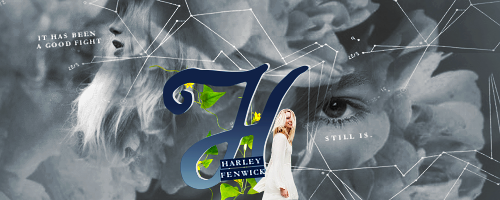 Muggle-Born Blondie • Owner of Nyx • Owner of La Fleur de Fenwick
Shopkeeper





Posts

: 220


Join date

: 2014-02-14


Age

: 24


Location

: Westminster, England



Kayla nodded earnestly as she leaned against the doorway. "Yes. The presentation was very informative. The job certainly has an aura of mystery around it." She meant it in a positive light. It definitely made more students interested in it, including herself. Of course she was trying to be open about all the careers.

"It looks promising," Kayla agreed. "I like the idea of looking into the future." The future was exciting to her, she actually didn't mind too much the future stuff professors were drilling into their heads. She wasn't sure about the idea that the future was set and there was nothing she could do to change it, though. "It would be cool to see if crystal balls and palm reading really work. Did they work for you?" she asked curiously.

She wondered how many people actually had their future turn out the way they expected. Kayla planned to work in the Ministry. The specifics, she hadn't actually worked out. Yet.

The choices were alluring. "Ancient Runes is my top choice," Kayla said automatically. "I think Care of Magical Creatures could be fun and useful for future studies." She grinned. "I remember when we met in the stables."
Shopkeeper





Posts

: 169


Join date

: 2014-10-18





Similar topics
---
Permissions in this forum:
You
cannot
reply to topics in this forum