Cbox
Everyone chatting it up over here!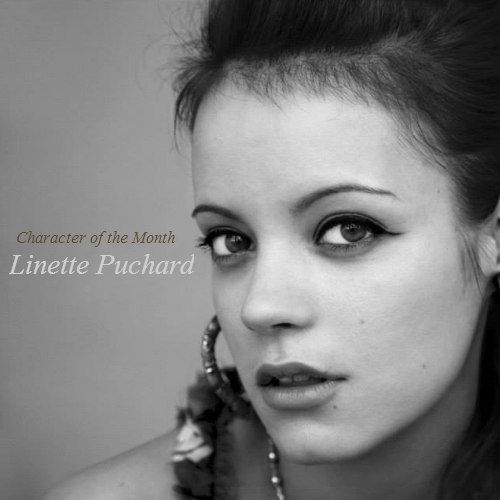 Basics
Character's full name: Linette Avelaine Puchard
House: Cerisier (formerly)
Clubs/Quidditch Position: She was a leader of the Student Organised Press /& a Quidditch Announcer
Blood Status: Pureblood
Family: Parents are Melville Puchard and Angelique Gareau. They divorced when Linette was eight.
She has an older brother Benoit who attended Durmstrang in his school years and a younger sister Louise who had been a Cerisier for a few years before transferring to and later graduating from Durmstrang.
Pets:
A tawny owl called Heidi whom she bought before her first year at Beauxbatons and a ginger cat called Mathilde who was a Christmas present back when she'd been sixteen from her then boyfriend, Christian d'Angelo.
Favorites
Food: Rice pudding. Linette tried this desert once and has loved it ever since much to the confusion of certain member of her family.
Color: Linette doesn't have a favourite colour. She likes to swap and change.
Animal: Cat
Hobbies: Reading. Teasing Osmund Hollow. And more reading.
Future
Dream Job: Linette is a reporter and as far as she is concerned that is her dream job.
Dream House/Location to Live: Linette would love to live overseas for a few years. Her current obsession is New Zealand because it is so far away and the opposite end of the world and not a place most people would think of.
Family plans: Linette has put any family plans she had on hold due to uncertainty about her relationship status with her Beauxbatons sweetheart Christian d'Angelo.
Misc. OOC Section
What shape would their Patronus Take? platypus
What memory would they use to trigger it? Her first kiss.
When faced with a Boggart, what form would it take? Seeing Christian's dead body.
What would your character see in the Mirror of Erised? Christian by her side and a baby in her arms.
What is your favorite thing about your character? Her optimism. Linette is currently angry with the lack of communication with Christian but she will not let that hold her back from getting what she wants out of life.
Other information you would like to share: Linette will always call Osmund Hollow 'book sniffer' even if he stops that habit.
Admin





Posts

: 55


Join date

: 2013-03-31




---
Permissions in this forum:
You
cannot
reply to topics in this forum